CoserZ likes to recommend this Rose Quartz costume for your cosplay event, which is a iconic dress. You will love it. Let's dig it as follow.
Steven Universe changed the lives of many kids—and adults. With representation and life lessons that the world desperately needed, Steven Universe gave us many inspiring characters, including Steven's mother, Rose Quartz.
If you've ever dreamed of being larger than life, here's your chance. A new take on the classic princess, Rose Quartz is a warrior that fights her battles with kindness, justice, respect, and friendship.
Our Rose Quartz costume fits best on larger body types or plus-sized models, although every dress can be custom fit. No matter what size you are, when you send our Coserz team your measurements, you can rest assured that your
Steven Universe Rose Quartz costume
will arrive ready to wear.
This Rose Quartz costume features a main white bodice overlayed on top of different layers in shades of pink. The main corset features two lace-up sections in the back for maximum comfort and breathability. It also provides added support for this sleeveless gown. A cute sweetheart neckline emphasizes the collarbone, and well-sized cups measure large enough to accommodate the bust.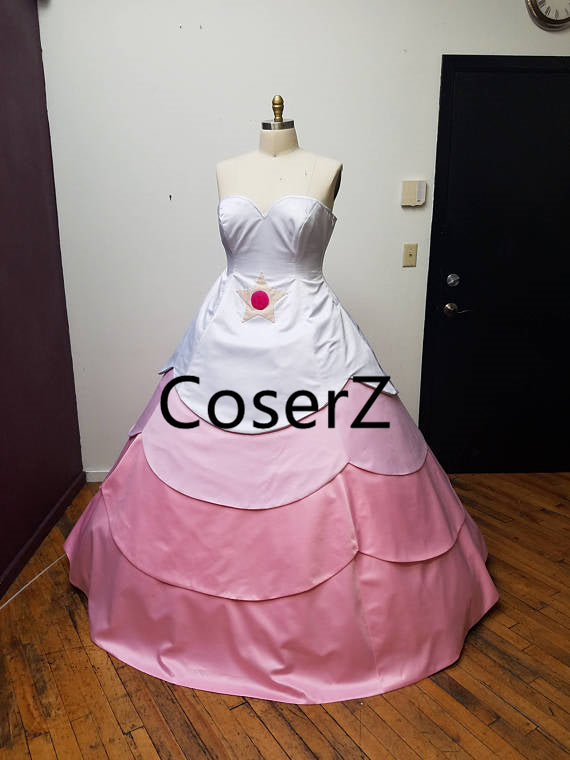 Each layer of the Rose Quartz dress ends with a sloping hem to create a rosette pattern. The white layer ends just below the hips, where a light pink layer emerges. After that, the light pink layer opens up to two more layers until the dress touches the floor. The skirt billows outward, supported by an inner structure to ensure Rose Quartz's iconic dress.
Near the belly button, a golden star emblem sits with a large red gem inside it. Everyone will adore your Rose Quartz costume, whether you wear it to a Halloween costume party or a cosplay event. If you can find some friends to dress as your companions, you could create a full cast including Amethyst, Opal, Steven, and even Mr. Universe.
Bring your favorite cartoon to life with this Rose Quartz costume. All you'll need to complete the look are Rose Quartz's iconic pink curls.
What are you waiting for? This Rose Quartz Costume from
CoserZ
has your name all over it!