For adult fans of the classic movie "Beauty and the Beast", finding appropriately sized costumes for fancy dress parties, Halloween nights, or general cosplaying can be a struggle. Most Princess Belle costumes are only available in children's sizes, and don't cater for older individuals who still want to have fun cosplaying as one of their favourite on-screen characters. Although you may think the beast would be hardest character to find a costume for, its actually particularly difficult to find a high-quality, fabulous cosplay for the character of Princess Belle. Thankfully, CoserZ has you covered, with this enchanting, custom made Belle costume.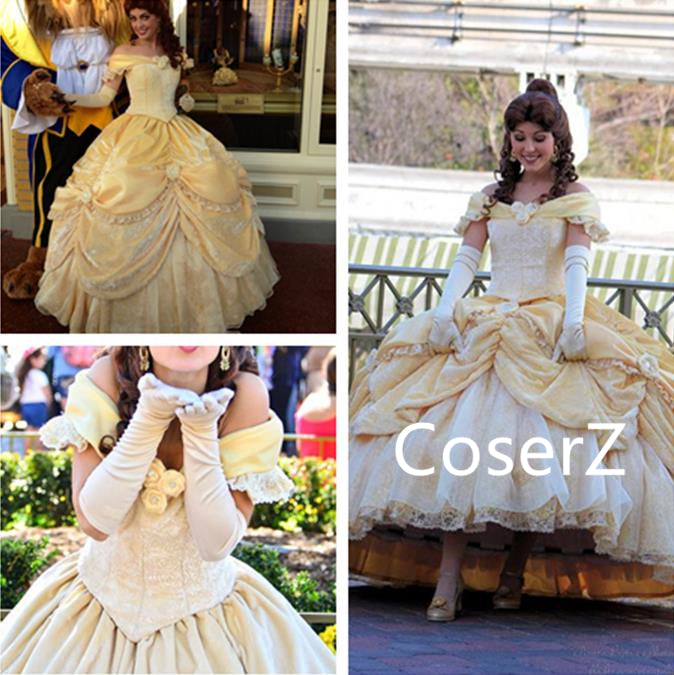 But what makes this dress so special? Let's inspect the incredible Belle costume more closely and show you why this dress is a must have for any cosplay enthusiast!
Design
As with all CoserZ cosplays, the most attractive and important aspect about this fabulous Belle dress is its gorgeous design.
Starting from the top and making our way down, let's discuss each element of the costume, showing how every section contributes to an amazing final product.
Beginning just below the shoulders, we have the elegant silk ribbon that stretches across the top of the bust and loops around the upper arms, draping off the edges of the shoulders. It's simple yet luxurious design is then held together with a lovely detail that recreates a bouquet of roses, aligned perfectly in the middle of the upper chest. Underneath the loops on the upper arms, protrudes a thin layer of lace, just adding that little bit of extra detail.
Moving down we come to the best part of the upper section of the Princess Belle costume; the sparkling corset. It's stunning white gold colouring and subtle detailing make it eye catching without being too overpowering and taking away from the real stand out piece of the costume, which we will get to in just a moment.
The forearms are covered with a set of gorgeous gold evening gloves that extend from the elbow, right down to the fingertips This set of gloves only emphasises the regel, ballroom feeling of Princess Belle costume, which is what you need to achieve the perfect Belle cosplay!
Finally, we come to the stand-out feature of Belle costume; the spectacular skirt, imitating Belle's magnificent ball-gown! The skirt, that consists of a mix of silk, chiffon, velvet and lacing, flourishes outwards, and cascades right down to the floor. This is then topped with intricate lacing and detailing, as well as more of the flowering that was mentioned earlier. The skirt emanates a feeling of importance and nobility, which is perfect for imitating on of the most well-known princesses in popular culture!
Of course, we must again mention that the entire Princess Belle dress is fully customisable; from the height and shoulders to the waist, hips, and the bust.
All of these components come together to produce a perfect movie-replica that is great for any occasion!
Pricing
For many similar Belle cosplays, the pricing always seems to be an issue; many high-quality costumes are priced extortionately high, especially if they are custom made. But not this one!
At just $179, it's one of the most affordable costumes available, given its brilliant quality, and customisability which won't cost you a single extra penny!
Even rush orders are free of charge, which is perfect for those who left their shopping a little last minute.
Reviews
After everything we've just gone over, it's highly unlikely that you're still not convinced that this dress is one of the best on the market; but if, for whatever reason, you still have your doubts, you don't just have to take our word for it! We have loads of great customer reviews that show just how great the product really is!
Amanda M. adds, "This dress is amazing! It fits great and looks great. Great quality! Well worth the price. I will be buying other princess dresses for sure."
Alyssa B. commented, "I have ordered very many Belle dresses over the past few years and this is by far the best one I have ever seen! It looks just like the one Belle wears in the parks. Exceeded my expectations by a million. WOW! The best Belle dress ever, I can't wait to wear it!"
And finally, Jessica D. said, "Exceeded my expectations! I originally ordered this Belle dress after speaking to someone who had also ordered it, as I was sceptical about receiving a dress of quality at such a good price, but she set my worries to rest and I am very glad!"
These are just a few of the many 5-star reviews the product has received!
More about Belle cosplay dress, please visit Princess Belle Costumes in the store.