If you agree that Gentlemen Prefer Blondes, then you'll want to break out your wigs (or hair dyes) for this pink Marilyn Monroe diamonds costume from her iconic performance of "Diamonds are a Girl's Best Friend." In the 1953 movie, Gentlemen Prefer Blondes, male pursuers are enamored by the beauty of the beautiful showgirls played by none other than Jane Russel and Marilyn Monroe.
You'll truly belong in the spotlight with Marilyn's bright
pink Marilyn Monroe diamonds costume
and matching gloves. This full-length Marilyn Monroe pink dress will accentuate your figure and the oversized bow on the back adds a splash of flair and pizazz. The hot pink color will draw the eyes of everyone in the room and you'll be the center of attention with this iconic pink Marilyn Monroe dress.
If you feel like you should be surrounded by twirling ballerinas and dancing gentlemen in the finest suits, then this is the dress for you. The greatest feature of this pink Marilyn Monroe diamonds costume is that it can be tailored to fit you just right. With extensive precise measurements, we sew every costume with our own hands and with care. The craftsmanship and the materials are sure to impress you as well as your party guests, friends, or family.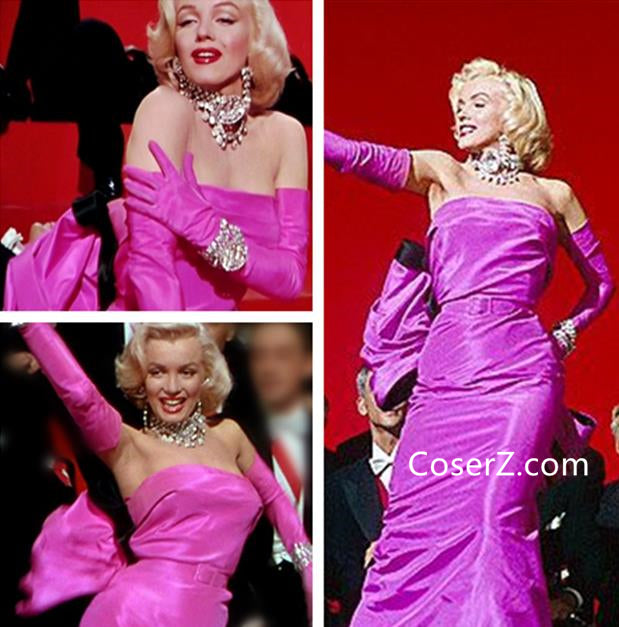 This hot Marilyn Monroe pink costume cosplay dress is perfect for costume parties, Halloween events, or cosplay adventures! Wherever you decide to don this outfit, you better get your hair and makeup ready. Just like Marilyn, you can expect to be pursued by suitors from every angle.
With shoulder-length gloves and fabric that bunches in all the right places, this pink Marilyn Monroe diamonds costume for women will leave you feeling sleek, sexy, and ready to take on the world. To complete the costume, you'll need some flashy jewelry—diamonds preferably. After all, they are a girl's best friend.
The music is fading, and the curtains are closing. Will you be a movie star in the spotlight or a forgotten face in the audience?
More about Marilyn Monroe costumes, please visit
CoserZ
It is flat out awesome. You will enjoy it!