If you're familiar with iconic 80s films, you'll recognize this glamorous costume as
Labyrinth Sarah costume
. Released in 1986, this Jim Henson fantasy film has inspired cosplay costumes for generations.
When I saw this film for the first time, I fell in love with Sarah Williams' ballroom gown. Played by actress Jennifer Connelly, Sarah Williams is a sixteen-year-old girl who must navigate the labyrinth to save her baby brother. In the movie, Sarah is as elegant as she is talented and brave.
Now you can be as eloquent as Sarah Williams in Labyrinth, going on your own wonderous and fantastical adventures. If you're lucky enough to have a Goblin King to your Sarah Williams, you'll need this Labyrinth Sarah costume in your cosplay or costume collection!
Once you get your hands on this shining iridescent gown, you can find your own David Bowie to play your Goblin King and dance the night away in glorious excitement and adventure.
You're in luck! You don't have to spend countless hours creating the perfect Labyrinth Sarah costume. Instead of pricking your fingers and battling through frustration, you can purchase your own custom Labyrinth Sarah dress. Since every dress is custom made to your exact measurements, you can rest assured that this Sarah Labyrinth costume will look gorgeous and fit you perfectly.
With a vintage 80s look, this recreation of
Sarah Williams Labyrinth costume
from labyrinth features iridescent fabric and extraordinarily puffed shoulders. The shining sleeves taper and are fitted towards the wrists, reaching the pinnacle of comfort and style!
The bodice is hand-fitted and embroidered with elegance and care, leading to the puffed skirt. The ballroom skirt has just as much volume as Sarah William's original dress from Labyrinth. And the custom broach attached to the front of the skirt completes the illusion of this replica.
The gorgeous neckline will complement any chest, and it leaves the perfect amount of space for you to complete your look with a Sarah Williams necklace.
Purchase your own Labyrinth Sarah costume today and fulfill all your wildest dreams and fantasies! Dance the night away with your Goblin King, David Bowie, or baby brother to complete the look.
The best feature of this Sarah Williams Labyrinth costume from Labyrinth is definitely the custom fit. With custom measurements of your height, bust, waist, hips, and shoulders, there's no doubt that every aspect of this custom Sarah Williams Labyrinth costume will come out just right. What's better than a costume that fits you like a glove?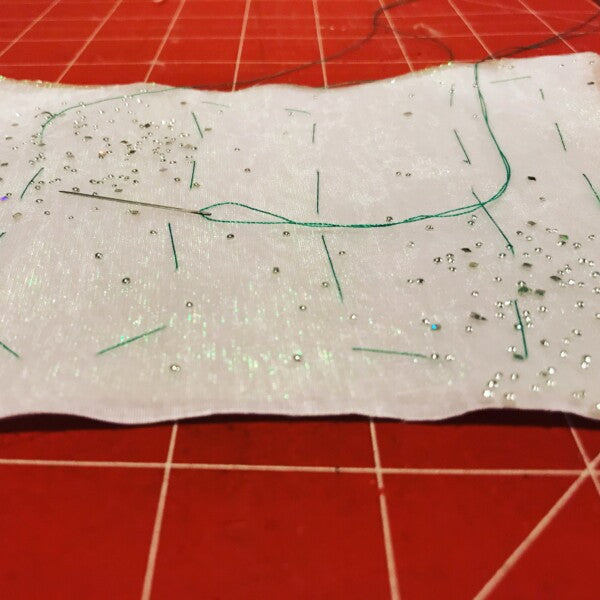 Don't wait any longer! This Labyrinth Sarah costume is literally made for you, and after you purchase, it can have your name on it. Make the best decision of your entire day and commit to this beautiful replica Sarah Labyrinth costume.
You can wear this ballroom gown to your favorite cosplay event, a costume party, an elegant ballroom dance, or around the house for fun! You'll get endless uses out of your own Labyrinth Sarah costume from Labyrinth since the high-quality materials will last you a long time. Wear after wear, this custom Sarah Labyrinth ballroom dress will look as good after multiple occasions as it does after the first time!
You won't regret adding this beautiful ballroom gown to your closet. Buy yours from
CoserZ
!