Stand back, boys. While some women might opt for Harley Quinn, others feel more at home in their own Joker costume. That's why we've made this Female Joker costume for women.
CoserZ female Joker costume
features the Joker's iconic green hair—except this time the wig is long with classic straight across bangs. This costume is also made of several individual pieces of clothing.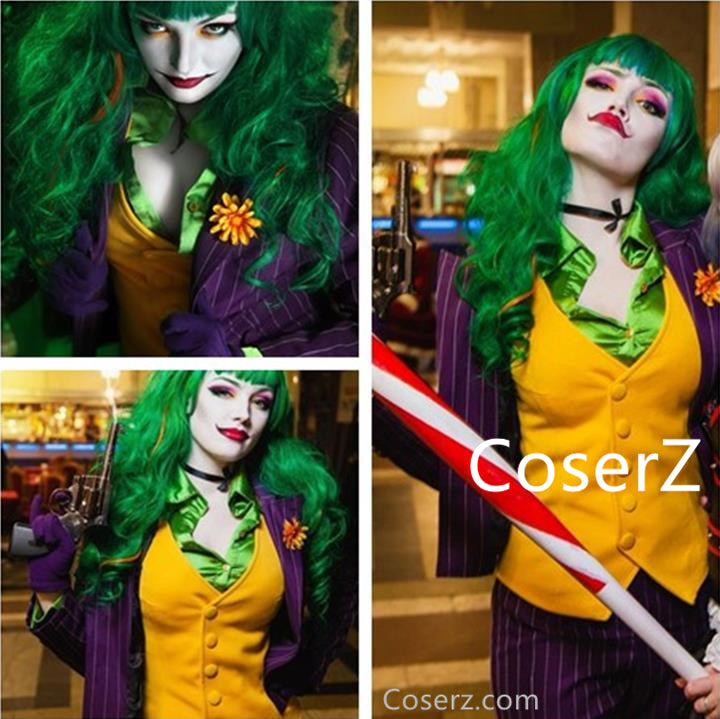 The first layer of female Joker costume consists of a silken green button-up that peeks out behind the next layer. A golden mustard yellow vest with large matching buttons works like a corset that frames the chest nicely with a deep V-neck.
The final piece of the ensemble is a purple pin-striped pantsuit with matching slacks and a jacket. Two more accessories grace this package—a black choker necklace and a golden flower broach.
We all know that girls just want to have fun, and now you can like your favorite Joker supervillain with Joker outfits, no matter what gender you identify with.
Finish off your look with a fancy pair of shoes and some expertly styled makeup to elevate this female Joker costume to film-worthy standards. After all, what is the Joker without her signature smile? Make use of that bright red lip to slay the competition and wreak villainous havoc on Gotham.
You can certainly go it alone in this stellar female Joker costume, but who doesn't love some company? Find a friend to be your Harley Quinn or your Batman (or Batwoman) to create a couple's costume worthy of awards.
Whether you're dressing up for Halloween or to cosplay at a convention (or at home!), this female Joker costume is the next great addition to your closet. It has your name on it and is waiting for you!
Our costumes are constructed with precise attention to detail, and when you send us your unique body measurements, you can be sure that we'll craft your costume especially for you. Now you don't have to wonder and wait to find out if the suit pants will be too tight or too long. Buy with confidence when you shop for custom designs with
CoserZ
. 100% satisfaction guaranteed! Thank you very much!