CoserZ team likes to introduce this unrefusable Evil Queen costume for you. Because we can guarantee you will satisfy Evil Queen costume made by CoserZ.

The Evil Queen has been around since 1937 when Snow White and The Seven Dwarves was first released. In this classic and wildly popular DS film, the Wicked Queen overflows with envy over her fair and beautiful stepdaughter, Snow White.

With a large flared white collar, a shining gold crown, and a long regal cape, you can become this menacing villain for your next holiday party, cosplay event, or Halloween outing. This Evil Queen costume features a fitted black headpiece that contours to your forehead to create the Wicked Queens signature sweetheart face.

The fitted purple dress worn under the cape is made of dark velvet, and a red rope tied around the waist accentuates the royal fashion. The cape is multi-layered with a dark outer fabric and a smooth red fabric underneath. Also included in this Evil Queen outfit cosplay costume are full length, light purple, silken sleeves with silver accents. Every element works together to produce the perfect Evil Queen costume for you.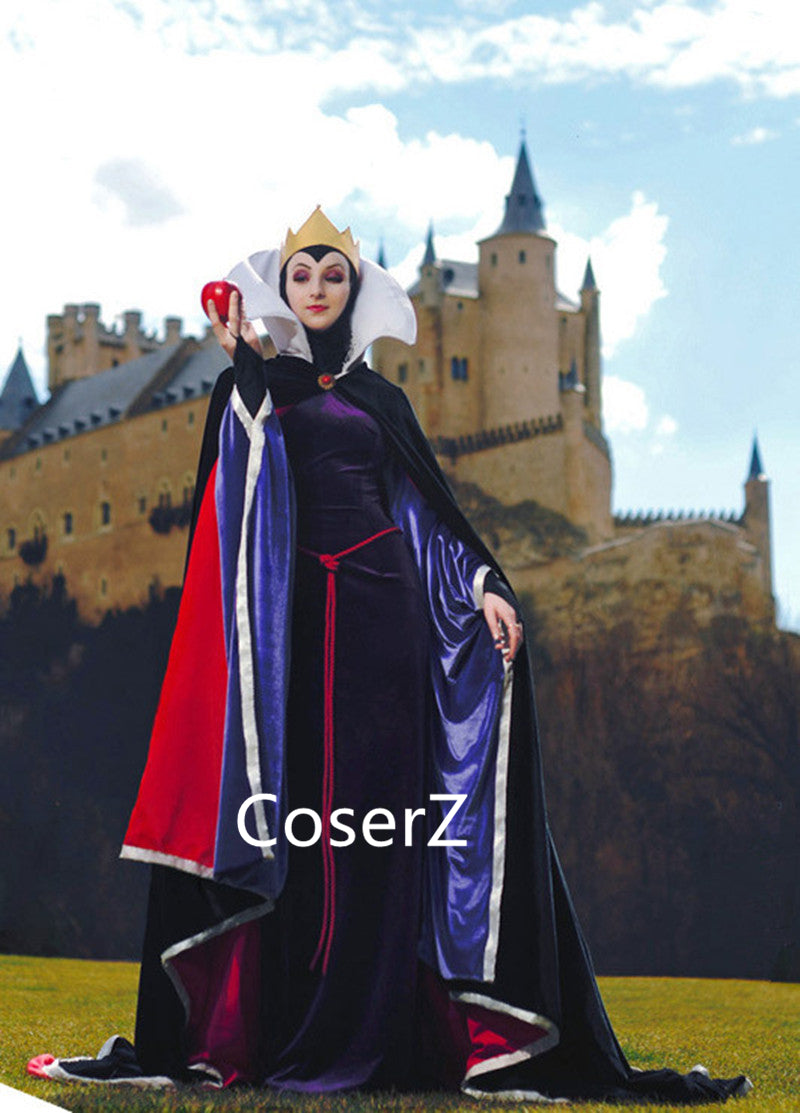 This depiction of the Evil Queen is for those who wish to replicate her younger appearance—before she transforms into the Wicked Witch. Also known as Queen Grimhilde, this royal villain transforms into the evil old witch that poisons Snow White with an enchanted toxic apple. If you are feeling venomous, this Evil Queen costume is for you.

Get your magic mirror and potions ready—this costume is literally made for you. Every Evil Queen dress we make is custom designed and hand sewed to meet your exact needs. Our ideal customer is any human with shapes and sizes. No matter what body type you are, you'll find your perfect fit when you provide us with your precise measurements.

We can guarantee that your Evil Queen costume will fit—and look—perfect. You'll be the envy of everyone at the party with this elaborate and elegant Evil Queen outfit from the famously popular film Snow White and the Seven Dwarves.

Grab your poison apple and go get into some mischief.
CoserZ offers Snow White costumes in the store. You can also just check it here ( https://www.coserz.com/collections/snow-white Evil Queen Costume ) . You can get Snow White costume and Evil Queen costume in one place, which saves your time and get the ideal costumes.