CoserZ are here to share some customers' Rapunzel costume reviews. We appreciate customers' feedback, which is helpful for other customers who are interested in this Rapunzel costume in future. On the other hand, they also give us the valuable improvement suggestions.
Rapunzel who is 18 years old Princess of the Kingdom of Corona is the fictional character from the film Tangled. She is so beautiful with the rosy cheeks, a pair of bright piercing eyes, long golden hair with fair skin. Therefore, many girls and women like to cosplay Rapunzel.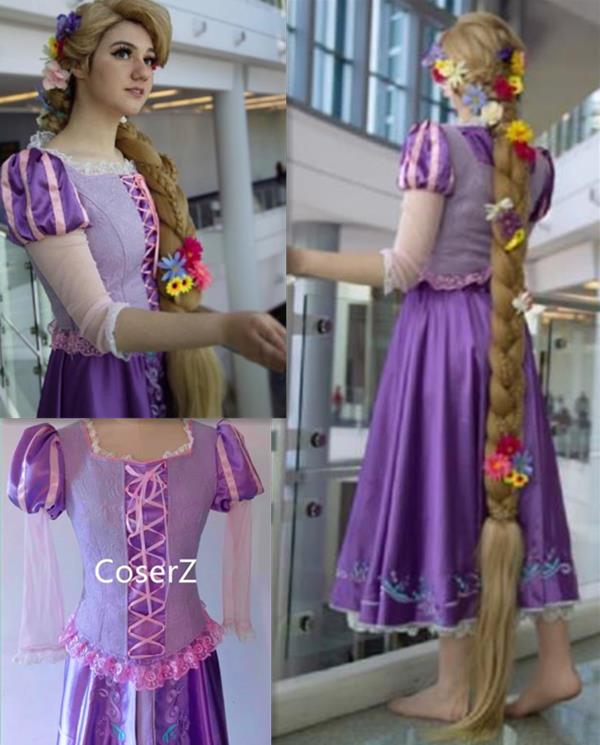 Tangled Princess Rapunzel Costume - https://www.coserz.com/collections/rapunzel/products/princess-rapunzel-costume-rapunzel-dress-cosplay-costume-custom-made
In the film, Rapunzel costume is a kind of dirndl version, which is one of traditional fashion German dress. The main color of Rapunzel dress is purple with pink, which comes with the lavender laced corset top with sequined trims and the floral design multi-layered skirt. For the sleeves, they are comfortable and tight-fitting.
How to explore one perfect Rapunzel dress for party? There are the honest and unbiased Rapunzel costume reviews from the customers as follow. We hope it is helpful for you, which you can know more about CoserZ Rapunzel dress.
Mary wrote down that the color of Rapunzel costume is same as the ordered one, cute and sewn neatly. And the shipping is only 10 days although the dress is customized! She loves it so much. Our CoserZ team are so happy to know that. Thank you Mary!
Louise said her Rapunzel dress fully corresponds to the photos and fits perfectly. The fabric of Rapunzel costume is comfortable and stretching. However, she received it more than 15 days. We got this shipping problem and found that it was delayed by the local DHL express. To avoid it, we will use UPS if orders will be shipped to Pennsylvania.
Yanick reviewed that Rapunzel costume looks like the picture and pleasant to the body without threaded sticking out. But the waist of the top is a little big although it fits her. To fix this problem, we contacted with Yanick about her exact measurements and confirmed with our seamstress team. Finally, we got that she chose the bigger size that mean wrong size number. Here, we suggest customers provide us with the exact measurements and guarantee your Rapunzel dress will fit like a glove.
There are the customized measurements of Princess Rapunzel dress we need.
1 Height______inches/cm
2 Bust______inches/cm
3 Waist______inches/cm   
4 Hips______inches/cm
5 Shoulder______inches/cm
Thank you again for our customer's reviews.  
Thank you very much for your time! CoserZ ( Store: https://www.coserz.com/ ) is committed to providing you with the most professional and satisfying Princess dress.